New honors / Junxia had a stand-out at the Pizhou Summit Meeting
Recently, the Pizhou Summit Conference and High Tech District Summit were hold. Ms. Chen Jing, Secretary of Municipal Party Committee, Mr. Dai Lei, Secretary of High Tech District, and other leaders of different levels all participated the summits and gave important speeches. Junxia was also invited as a representative from outstanding enterprises.
The heavy prize represents the sweat and efforts of Junxia team in the past one year. Under the leadership of Mr. Heng Dunjian, Junxia fought various hardships, plan ahead, and implemented the 3 strategy of Innovation driven, brand driven, and culture driven development. We pushed for infra structure reform and upgrading through 5 directions, i.e.: inteligentized equipment, informationlized management, online marketing, brand building, and being service oriented. We recruited large number of high level technology talents, optimized industry configuration, increased R&D investment, perfected product ranges and service system. We registered over 200 national patents, and master the key production and R&D technology. In addition, we first introduced the internationally advanced KUKA and Yaskawa industry robots, established the first intelligent production line and workshop in the trade, and proactively promote the realization of unmanned production in this industry.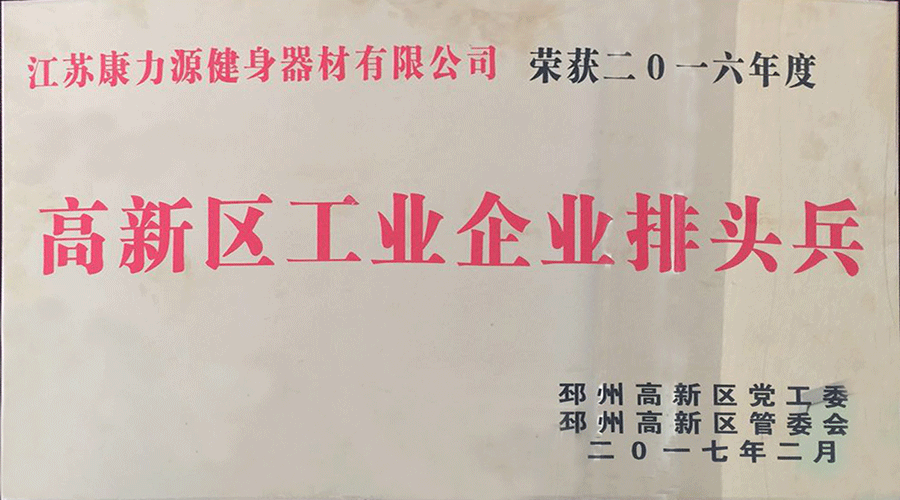 2016, Junxia was nominated as the Top-100 Enterprises of China Light Industry, and awarded as Outstanding Sports Product Manufacturer of Jiangsu, and Management Innovation Model Enterprise of Jiangsu. Through the New Generation Intelligent Electrical Treadmill project, Junxia was nominated as the model enterprise for new technology application. Junxia was also acknowledged as No. 2 in the domestic sports industry. These achievements confirmed the effectiveness of the 3 strategies. In the coming new year, Junxia will still hold to our earlier strategy to focus on new innovation, and increase R&D investment. We aspire to provide superior products and service to win the market and build up the brand. We will continue working hard towards our vision of making Junxia a hundred year brand of China and the world. We will also make our due contribution to the greater development and socialist modernization of Pizhou city.